Portugal is getting a lot of buzz in recent years, and rightfully so as it has been one of the least touristy countries in western Europe. What this means is you'll find a lot of old-world charm at an affordable price. There are a lot of fun things to do in and around this gorgeous city. However, if you're short on time, here is an excellent itinerary for your perfect 2 days in Lisbon that will show you the top sights of the city with a must-do day trip to Sintra.
Lisbon is a city gaining popularity each day.  It's a city respectful of its prized history that maintains its old-world charm while wowing people with its beauty and grace. From breathtaking views to historic buildings and squares, Lisbon has something for everyone.
Packing everything in your 2 days in Lisbon itinerary will be challenging, and seeing the top sights will take some dedication, as there's a lot to see and do in this incredible city. Here is an itinerary that will show you the best of what Lisbon has to offer. And don't forget to check out this Portuguese food guide so that you know what to try here.
---
Disclaimer: This post includes affiliate links to products, which earn me a small commission at no extra cost to you. This helps to fund my blog and bring more authentic articles to you :)  Learn more
---
Sam is a travel-obsessed animal lover with big plans to travel the world with her dog. When she's not blogging about her travel adventures at My Flying Leap, you can find her volunteering with her pet-therapy cat and dog on the top of a mountain or enjoying a glass of bold red wine planning for her next trip.
2 Days in Lisbon Itinerary: Day 1
The first day in Lisbon will take you to Lisbon's oldest district, Alfama, to walk through history and see what Lisbon was like hundreds of years ago. You'll see some newer areas with historically-significant places as well.
Chiado District
Start your tour of Lisbon in the Chiado district and grab a bite at Fernando Pessoa's favorite coffee shop, A Brasileira. Pessoa was a Portuguese poet and writer and one of the most influential literary figures of the 19th century. He is sometimes referred to as the "most influential writer you've never heard of."
There are statues and images of him around the city, and you'll recognize him as he's always shown as a tall and thin man with a long coat, glasses, and a hat. You can even join him for your morning coffee, as there's a statue of him out front.
Head over to the oldest bookshop globally, Bertrand Bookshop (Livraria Bertrand), established in 1732 that still operates today. 
Santa Justa Lift
Only in Lisbon, you will find a lift as a tourist attraction in its own right! Head over to the Santa Justa Lift, where you can "conquer a castle by elevator," so to speak. This lift is on many must-do and must-not-do lists of Lisbon. If you choose to take a look and not ride it, you'll have a great workout.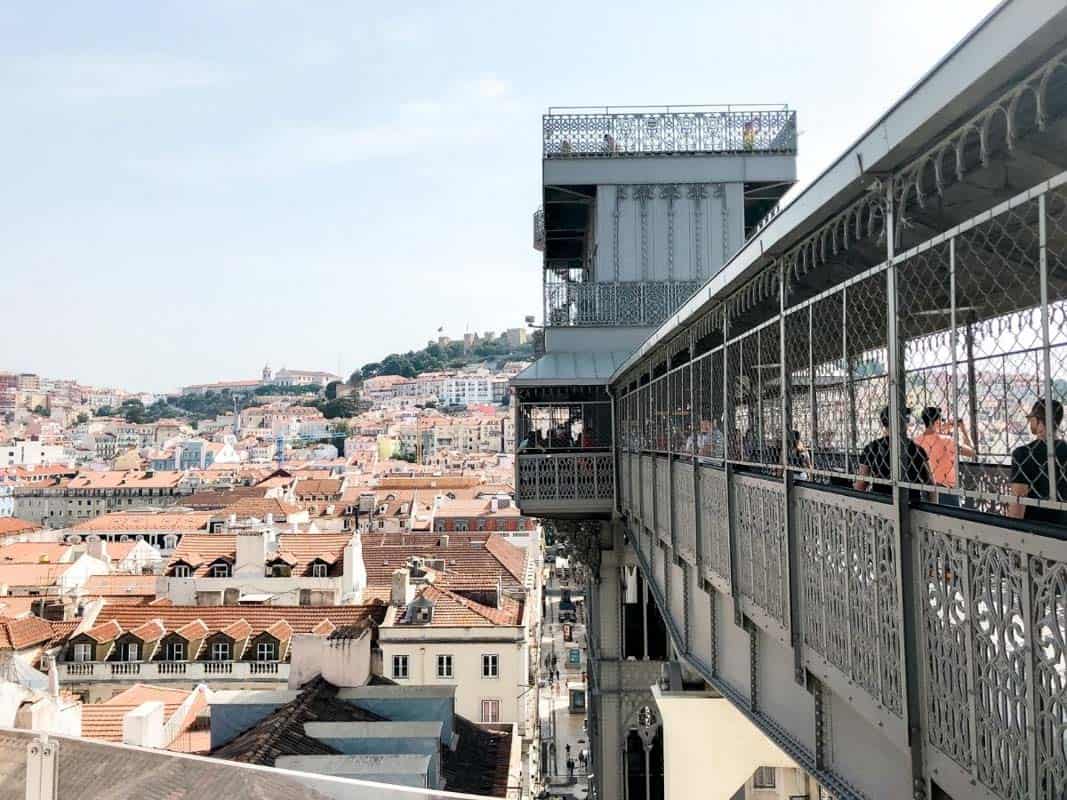 If you do ride the lift, you'll appreciate the assistance of climbing the large hill to the Graça neighborhood, where the castle is. This indeed is beneficial during your 2 days in Lisbon to have enough time for everything. 
You can get a beautiful city view from the top, but there's more to come.
São Jorge Castle (Castelo de São Jorge)
São Jorge Castle or Saint George's Castle is on the top of Lisbon's largest hills. The area has been strategically and historically significant for those who occupied Lisbon. A fortress of sorts has been here since the 1st century. 
There have been many updates and additions to the castle throughout the centuries. It hit its peak between the 13th and 16th centuries when the royal family and the bishop lived there. It later became military barracks and is now a national monument and a museum. 
The castle is an iconic landmark in the city, offering some of the prettiest city views, so make sure you don't miss it during your 2 days in Lisbon. 
Alfama
Alfama is the oldest neighborhood in Lisbon. In 1755, a massive earthquake struck the city during All Saints Day, meaning that except for a devastating earthquake, the lit candles for the occasion caused an enormous fire. Most of the town was destroyed except for Alfama.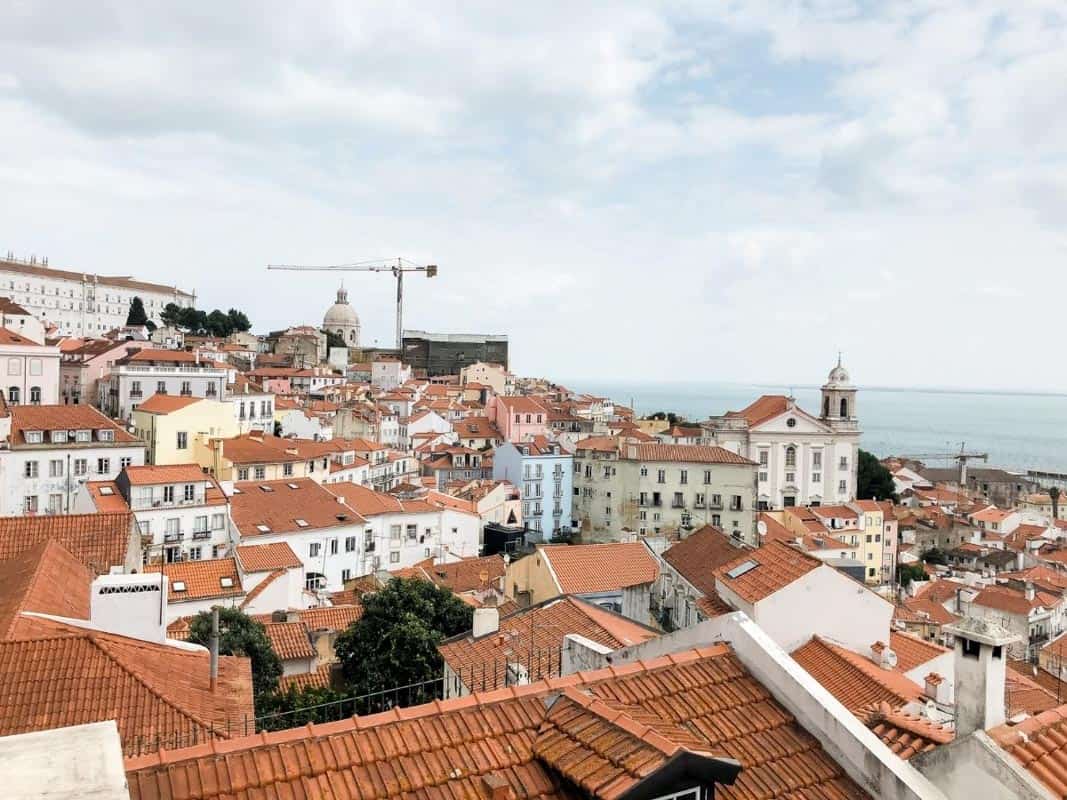 As you walk around Lisbon, you'll notice the streets are wide in most places—not so in Alfama. It's a quaint, historic neighborhood and believed by many to be the most beautiful city. Get lost wandering the streets to get a glimpse of what life was like in centuries past.
Alfama also has some of the most beautiful city views in its many Miradouros, or lookouts. Some of the most popular ones are:
Miradouro das Portas Do Sol—one of the most memorable views of the city and the Tagus River
Miradouro da Nossa Senhora Do Monte—has gorgeous sunset views
Miradouro de Santa Luzia—features a beautiful terrace.
If you can, plan your 2 days in Lisbon, either on a Tuesday or Saturday, to check out the Ferra da Ladra, also known as the Thieves Market. It's a huge flea market where you can buy almost anything you can imagine, from housewares to souvenirs. Locals and tourists alike shop there.
Bairro Alto
The Bairro Alto is the best neighborhood to stay in Lisbon if you love hanging out at bars as it's the nightlife hotspot. There are many restaurants and bars in this area, so it's a great place to go for dinner. 
One thing you can't miss during your 2 days in Lisbon is fado – a passionate Portuguese celebration of music and song. It's believed to have been created hundreds of years ago by women when the men went off to sea to explore the world or for war. 
Tasco do Chico is a famous place for fado in Bairro Alto. It's nothing fancy but has some incredible entertainers. Or go to O Faia for a dinner and fado show. 
2 Days in Lisbon: Day 2
The next day in Lisbon will start in the neighborhood of Belém on the western edge of Lisbon. It's far enough from the city center that it feels and looks like a different city. It's historically significant as this is where the great explorers like Magellan and Da Gama set sail during the Age of Discovery in the 15th century. 
Belém
Belém is a must-see for any trip to Lisbon. It is easy to get to by bus or by tram, and it takes around 30 minutes from the center of Lisbon. You'll want to arrive early as it's a top-rated destination for tourists to see the incredible buildings in this UNESCO World Heritage Site.
Jerónimos Monastery (Monesterio de Jerónimos)
People get in line to visit this stunning monastery around 30 minutes before it even opens, so get here early. You can buy a joint ticket to see the Tower of Belém and skip the line, which is a great idea. 
Jerónimos Monastery was built in the 16th century and is stunning. If you get there early, you'll get to see it before it's crowded with people. Explorer Vasco da Gama was buried in this monastery.
In the building, though in a separate entrance and with a separate fee, is the National Archaeological Museum. It is small but has an impressive group of Egyptian and Roman artifacts.
Monument to the Discoveries (Padrão dos Descobrimentos)
Head straight towards the Tagus River, and you'll see the Monument to the Discoveries. This monument celebrates the Portuguese Age of Discovery in the 15th and 16th centuries. It was initially a temporary exhibit when it was built in 1939, but it was made into a permanent moment in 1960.  It is a carving of men aboard a ship laid on a black and white mosaic in a wavy pattern that resembles ocean waves.
Tower of Belém (Torre de Belém)
The Tower of Belém is part of the UNESCO World Heritage Site along with the monastery.
It's not as ornate as the monastery, but it's every bit as impressive. It is four levels high, and you get a fantastic view of the Tagus River, including the Christ the King statue and the 25th of April Bridge.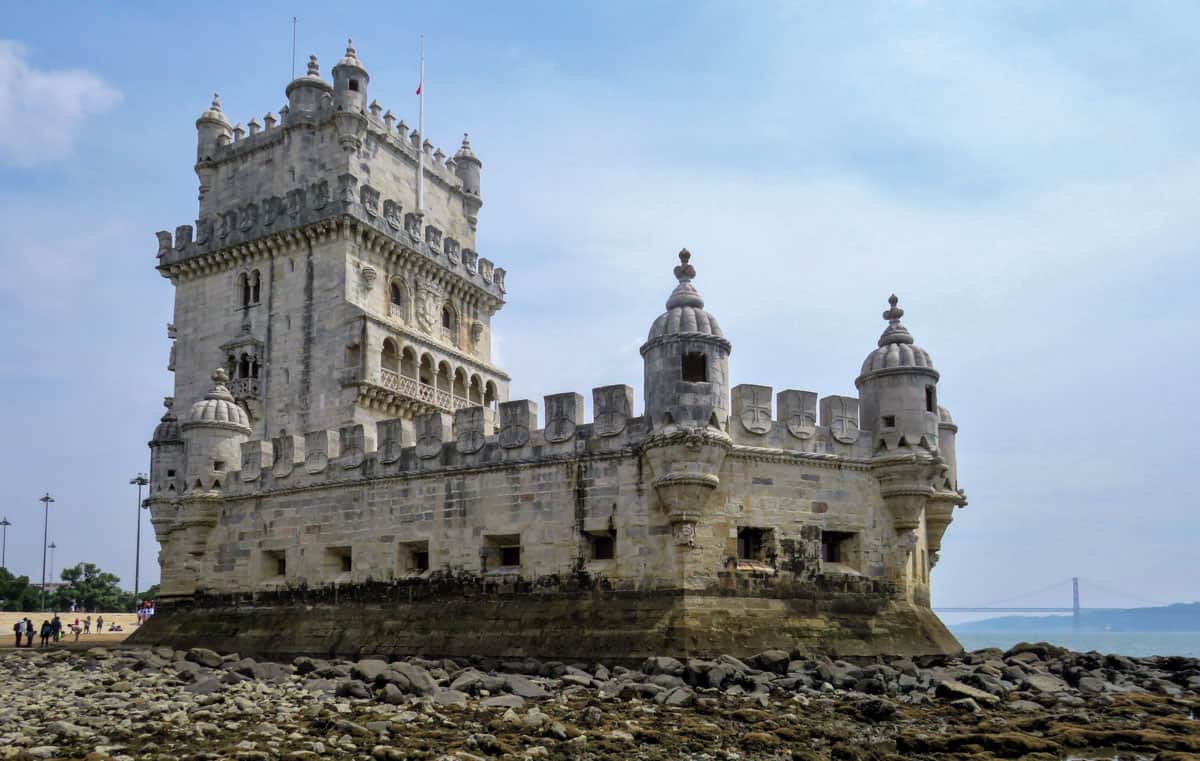 Pastéis de Belém
Before you leave Belém, stop at Pastéis de Belém. These famous Portuguese egg custard tarts, pastel de nata, were actually created at the Monastery, and the original recipe was sold to this shop. Even though you can buy them anywhere, the best ones are made here. 
Commerce Square (Praça do Comércio)
Commerce Square was created during the rebuilding effort following the Lisbon earthquake of 1755. It's a large and impressive square featuring a large statue of King Joseph I. It's located on the Tagus River, and there is a large arch, the Augusta Arch, leading from this square to the city of Lisbon. The arch has Greek mythological figures and historic people carved into it.
Pass through the arch to Rua Augusta, the most famous shopping street in Lisbon. It's a great place to stroll and do some souvenir shopping. 
Carmo Square and Carmo Convent
Continue north to visit Carmo Square. This famous square located near the Santa Justa Lift was the site of a revolution. Portugal was under the rule of an authoritarian dictatorship for almost 40 years. On the 25th of April in 1974, there was a military coup to overthrow it.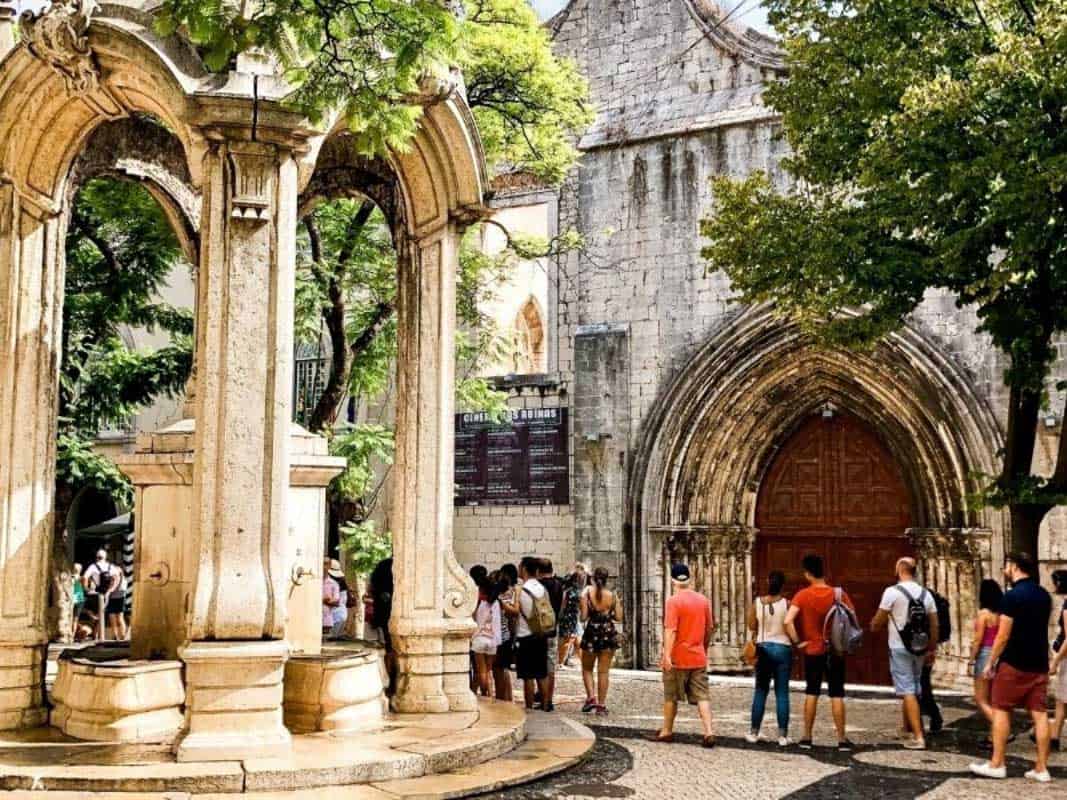 The people were told by radio to stay home; however, they wanted to get involved. A peaceful civilian resistance joined the military rebellion, flooding the streets. They gathered in Carmo Square to witness history.
Rossio Square and Mouraria
There is beautiful tile work in Rossio Square. It's a picturesque square to visit with a large statue in the center. 
If you are after a hidden gem for your 2 days in Lisbon itinerary, head to the neighborhood of Mouraria. It's less touristy than many other neighborhoods and a preferred area for many locals to live in.
Wander the cobbled streets and look for "A Tribute," a beautiful outdoor photo exhibit by Camilla Watson featuring the senior people who once lived in this neighborhood. It's an exciting display as the pictures were taken to reflect who each of them was as a person.
Try a Chinês Clandestinos, or underground "off-the-books" Chinese restaurant found in this neighborhood for something fun and different. You won't see any signs over the door or menus displayed. Only the smell and possibly red lanterns hanging above the door will give it away.
Day Trip to Sintra from Lisbon
The most popular day trip from Lisbon is to see the enchanting town of Sintra, another UNESCO World Heritage Site. It's where the royal family spent summers for hundreds of years, as it's at a higher elevation and is much more relaxed than Lisbon. 
How to Get to Sintra
It's easy to get to Sintra by train from the Rossio Station in Lisbon. It takes only around 40 minutes, and you can go directly without any stops. Trains run frequently, so this is much easier than driving, as parking is limited in Sintra. However, to save time, you can also join the organized tour and visit not only Sinta and Pena Palace but also Cabo da Roca and Cascais.
What to See in Sintra
There's a lot to see in Sintra, so it's tough to pack it all into a day trip. If you're going to do one day in Sintra, here are the top sights.
Pena Palace
Visit this majestic castle on top of the mountain ridge above Sintra. Also called Sintra Castle, this beautiful example of 19th Century Romanticism architecture is exactly what you picture when you think of a castle. 
It was initially a convent that was destroyed by the Lisbon earthquake. In the 19th century, King Ferdinand II had this palace built to be a summer residence for his family. Purchase the joint ticket and take a stroll through Pena Park as well. 
Quinta da Regaleira
This property is steeped in mysticism, drawing on the symbolism of the Freemasons and others. One of the most exciting places to visit is the Initiation Well. You pass nine platforms, akin to the nine gates of hell in Dante's Divine Comedy. Follow a tunnel system where you "walk on water" on carefully placed stones to attain enlightenment. 
Though you're not required to have a guide, it is helpful to have one here to understand all of the symbolic references. You can also visit Regaleira Chapel and tour Regaleira Palace.
National Palace of Sintra
The National Palace of Sintra is only a few minutes' walk from the train, and it's located right in the center of the town of Sintra. It was built in the 10th century by the Moors and was added until the 16th century, incorporating several different architecture types. 
Though it did suffer some damage from the earthquake of 1755, the damage was minimal. It's the only palace in Portugal in the same state as before the earthquake, so it's the country's best-preserved medieval royal residence.
The historic center is worth walking around as it's quite quaint and beautiful. While you're there, stop at Casa Piriquita, a pastry shop that's a local institution dating back to 1862. They are known for two Sintra pastries, Queijada de Sintra and Travesseiro de Sintra. The first is a small sweet pie made with cheese and dusted in cinnamon, and the second, "Sintra's pillows," is a dough-based pastry filled with almond cream and secret ingredients.
---